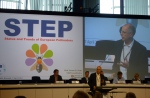 Bee Health Conference - a high-level event to discuss latest insights into honeybee health in Europe was held on 7 Apr 2014, from 10:00 to 18:00h in Brussels, Belgium.

The event aimed at promoting dialogue, knowledge transfer, coordination and a joined-up approach in the policy-science-practice triangle, at EU, national and local level and between the various disciplines, especially in recognition of the multi-factorial causes behind colony losses.

The conference was opened Tonio Borg, Commissioner for Health and featured a number of keynote speakers from leading initiatives in the field among which Gilles Ratia, President of APIMONDIA; Dimitris Melas, Secretary General of the Greek Ministry of Agriculture; and Markus Imhoof, award winning director of the film More than Honey.

STEP was also represented by the project coordinator Simon Potts. The project also had an allocated stand at the conference where great interest was shown in the project research findings and progress.

The conference featured policy and decision makers from the field to ensure interaction between science and policy including speakers from DG Agriculture and various apicultural and agricultural structures and initiatives on national and international levels.